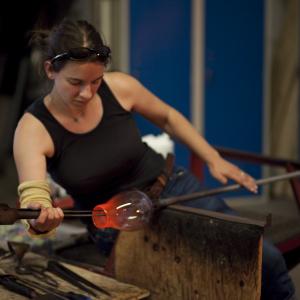 Kate Civiero
Artist member since 2018
Eugenia, ON
As a glassblower and metalsmith, I make objects through deliberate design and thoughtful creation. Motivated by material curiosity, I combine contrasting mediums to inform texture, pattern, colour and structure. With a balance between careful consideration and impulsive explorations, I give a voice to my craft through the language of my materials.
---
What artists do you admire right now?
Rik Allen, Tom Moore (glass artists)
Favourite medium
Right now, copper!
During my breaks, I tend to ...
Walk to the waterfall or lake or putter around in my garden
Beverage of choice
Thornbury Cider
Describe your home in 3 words
Rural, beside a waterfall, pet chickens everywhere
When I'm not making art, I'm (a) ...
still making art. Some art for business, different art for hobbies!